Billy Button Fiano is a spring/summer stunner: its bright gold colour simply glistens in the glass. It's the perfect pair to our soft prawn taco recipe (below).
This fiano from Victoria's Alpine Valleys region is hand-crafted by the energetically talented alternative-varietals 'queen', winemaker Jo Marsh, formerly of Seppelt Great Western. A few years back she wisely packed her bags and headed for the sub-alpine hills of Porepunkah. Though she was not then a vineyard owner, she cleverly connected with a group of local growers to take advantage of the enormous range of alternative varietals found in the area. Without any hesitation she quickly produced an astonishing collection of excellent new wines from varietals including gewürztraminer, arneis, vermentino, malvasia, friulano, verduzzo and more!
Jo's fiano has a brilliant floral bouquet that certainly does live up to the visual elegance. It's an impressive wine with more detailed, f...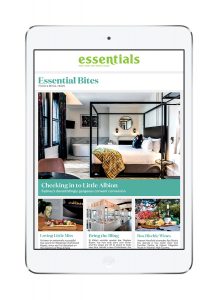 Essentials Premium Subscription FREE 14 day trial. Register Now
Get unlimited access to all premium Essentials Magazine content on all devices (includes mobile apps), PDF flip books of hard copy magazines and back issues. $12.95 per quarter after trial period. That's great value at less than 7 cents per day!