Grand Banks - Hudson River, Pier 25, NYC
Grand Banks at New York's Pier 25 is a celebrated oyster bar aboard the historic wooden schooner Sherman Zwicker, and is inspired by the floating oyster barges that lined Manhattan's waterfront in the 18th and 19th centuries. This perpetually crowded bar is so popular, it has spawned two new venues: Island Oyster on Governors Island and Pilot, also aboard a boat, docked at Brooklyn Bridge Park's Pier 6. On the menu are sustainably harvested oysters and nautically inspired cocktails. The awe-inspiring Hudson River and city views are a free bonus. Not to be outdone, we've put together a collection of Grand Banks-inspired oyster toppings for you to try. And, warning ... the Deluxe Oysters Kilpatrick are addictive.
grandbanks.org
Grand Banks, Hudson River, Pier 25, NYC
Oysters 3 Ways:
Oysters with Mirin and Pickled Ginger
Top oysters with a splash of mirin and one slice of pickled ginger...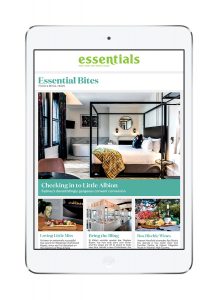 Essentials Premium Subscription FREE 14 day trial. Register Now
Get unlimited access to all premium Essentials Magazine content on all devices (includes mobile apps), PDF flip books of hard copy magazines and back issues. $12.95 per quarter after trial period. That's great value at less than 7 cents per day!