During the long and lazy summer days entertain friends with this icy- gin -fuelled gem.
Makes 1 litre
1 cup water
1 cup caster sugar
6 large fresh basil leaves
1 tbsp honey
1kg watermelon flesh, roughly chopped
½ cup gin (or Seedlip non-alcoholic distilled spirit - for a  great mocktail option)
Fresh watermelon balls and pomegranate seeds to serve
Method
1. In a small heavy-based saucepan over a medium heat add water, caster sugar and basil leaves. Bring to a simmer, stirring until sugar has dissolved and basil leaf flavours have infused.
2. Remove from heat and allow to cool completely.
3. Remove basil leaves from the infused sugar syrup.
4. Add honey, watermelon flesh, gin and the basil-infused sugar syrup into a bar blender and blitz to a well-combined purée consistency.
5. Transfer the watermelon gin mix into freezer-proof plastic container(s) and freeze until semi-frozen.
To Serve
Place 5-6 watermelon balls into the...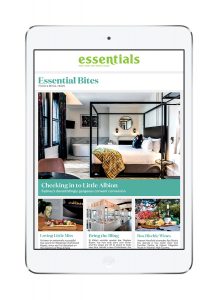 Essentials Premium Subscription FREE 14 day trial. Register Now
Get unlimited access to all premium Essentials Magazine content on all devices (includes mobile apps), PDF flip books of hard copy magazines and back issues. $12.95 per quarter after trial period. That's great value at less than 7 cents per day!