Makes 2 tarts, serves 4
Bake in 15cm diameter cake tins.
400g sheet of good quality all-butter puff pastry
16 pieces oven-roasted tomatoes (mixed varietals, see recipe below)
16 pieces caramelised shallots
2 burrata (about 200gm each; buffalo mozzarella is an excellent substitute)
Green herb vinaigrette to garnish
Oven-roasted Garden Tomatoes
(mixed varieties)
8 fresh tomatoes of mixed varieties, cut in halves
2 cloves garlic, peeled and thinly sliced
1 bay leaf, torn into small pieces
6 sprigs thyme
¼ cup extra-virgin olive oil
Salt and pepper to taste
Preheat oven to 180C.
Method
1. Lay the tomato halves in a baking tray, skin side down.
2. Place a slice of garlic on top of each tomato half.
3. Randomly scatter bay leaf pieces and thyme sprigs over the tomatoes and garlic.
4. Season tomatoes well.
5. Drizzle a generous amount of olive oil over the tomatoes and garlic.
6. Bake tomatoes for ...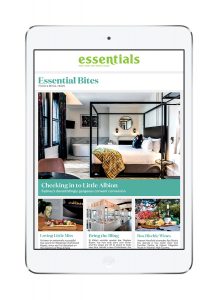 Essentials Premium Subscription FREE 14 day trial. Register Now
Get unlimited access to all premium Essentials Magazine content on all devices (includes mobile apps), PDF flip books of hard copy magazines and back issues. $12.95 per quarter after trial period. That's great value at less than 7 cents per day!