¼ piece of broccoli, cut into large florets
¼ piece of cauliflower, cut into large florets
2 tbsp Rainforest Heart Spicy Citrus Dukka
3 tbsp Tolpuddle Marinated Gem goat cheese
2 slices of dark rye bread, toasted and crumbled
2 tbsp hazelnuts, toasted and finely chopped
Australian extra-virgin olive oil
For garnish:
6-8 hazelnuts roughly chopped
½ pomegranate, seeds removed (for garnish)
Snowy River Station Sea Parsley leaves (for garnish)
Method
Preheat oven to 200C
1. On a baking tray, drizzle a generous amount of olive oil over the prepared broccoli and cauliflower, dust with Rainforest Heart Spicy Citrus Dukka.
2. Place in oven and bake until golden in colour, approximately 15-20 minutes.
3. Remove from oven and allow to cool slightly.
To Serve
Arrange the baked spicy roasted broccoli and cauliflower on a serving plate. Add the Marinated Gem goat cheese, crumbling slightly as you go. Top with a...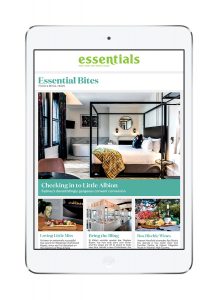 Essentials Premium Subscription FREE 14 day trial. Register Now
Get unlimited access to all premium Essentials Magazine content on all devices (includes mobile apps), PDF flip books of hard copy magazines and back issues. $12.95 per quarter after trial period. That's great value at less than 7 cents per day!