Vanilla Ice-cream Base
Makes 500g
150ml thickened cream
225ml full-cream milk
5 egg yolks
60g caster sugar
1 vanilla pod, halved and scraped
Ricotta and Crystallised Ginger Flavouring
500g vanilla ice-cream base
1 cup smooth ricotta
50g crystallised ginger, finely chopped
2 tbsp tokay/topaque wine (optional)
Method
1. In a heavy-based saucepan add cream, milk and scraped vanilla pod and beans. Bring to a gentle simmer then remove from heat.
2. In a large bowl, whisk together yolks and caster sugar until thick and creamy.
3. Gradually pour the hot milk and cream mixture over the prepared egg yolks, whisking continuously until all ingredients are combined well.
4. Return the mixture to the saucepan and cook over a low heat for 6-8 minutes, stirring continuously until the mixture thickens and coats the back of the spoon. You have now created an anglaise.
5. Remove the saucepan from the heat and strain t...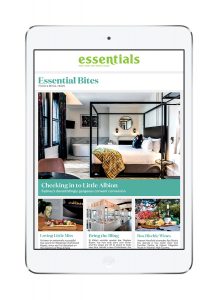 Essentials Premium Subscription FREE 14 day trial. Register Now
Get unlimited access to all premium Essentials Magazine content on all devices (includes mobile apps), PDF flip books of hard copy magazines and back issues. $12.95 per quarter after trial period. That's great value at less than 7 cents per day!