'Goddess of Pie' Kirsty Heather of Cooper's Handmade Pies has crafted this beautifully-decadent and flavoursome Pork Terrine Pie.
Hot Water Pastry
500g plain flour
Pinch of Murray River salt flakes
150ml melted lard or butter
200ml boiling water
Method
1. Combine flour and salt, make a well in the centre.
2. Pour lard/butter and hot water into well in flour, mix well until flour is combined. This should come together to make a pliable dough. Take care not knead or over-handle the dough.
3. Reserve about a third of the dough for the lid. Roll out the remainder a floured surface to fit and slightly overhang a deep 15cm cake tin by at least 3 to 4cm. Do this while the dough is still warm.
4. Rollout the remainder on your floured surface to make a pastry lid, then put aside covered with a tea towel until required.
Pork Jelly
1 pork hock
2 pig trotters
1 onion, diced
1 celery stalk, sliced
10 black peppercorns
1 bay leaf
Wa...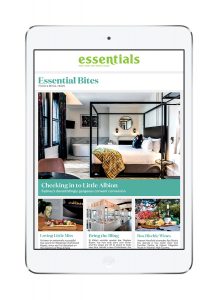 Essentials Premium Subscription FREE 14 day trial. Register Now
Get unlimited access to all premium Essentials Magazine content on all devices (includes mobile apps), PDF flip books of hard copy magazines and back issues. $12.95 per quarter after trial period. That's great value at less than 7 cents per day!