Featuring a unique, easy-to-digest unleavened kefir pizza dough, this rich in umami French-style pizza will have you coming back for more.
Caramelised onions
10 brown onions, peeled, thinly sliced
100g unsalted butter
Salt flakes to taste
4 tbsp balsamic vinegar
Method
1. In a large saucepan over a medium heat, add butter and melt, then add sliced onions and stir well.
2. Reduce the heat slightly and continue to cook slowly until onions become softened and golden in colour, stirring occasionally.
3. Add balsamic vinegar and stir through onions well. Season with salt. Set aside.
To Serve
Unleavened Kefir Pizza Dough
(see additional recipe below)
Extra virgin olive oil (for baking-tray lining)
Small tin of best quality anchovy fillets, drained
100g mixed olives, sliced into cheeks (discard the pips)
1 small bunch fresh thyme
Preheat oven to 220C
Method
1. Cut 1kg of unleavened kefir pizza dough into four equal pieces. O...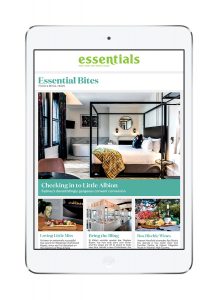 Essentials Premium Subscription FREE 14 day trial. Register Now
Get unlimited access to all premium Essentials Magazine content on all devices (includes mobile apps), PDF flip books of hard copy magazines and back issues. $12.95 per quarter after trial period. That's great value at less than 7 cents per day!