with sweet and sour cucumbers, red currant and onion relish
Serves 4
Mackerel Fish Cakes
700g potatoes, peeled and cut into large chunks
1 tbsp Dijon mustard
5 tbsp crème fraîche
½ bunch chopped dill
Zest of 1 lemon
800g boneless mackerel fillet, skin on
600ml water
1 brown onion, halved, skin on
2 cloves garlic, smashed, skin on
1 large bay leaf
1 tsp black peppercorns
Salt and pepper to taste
For Crumbing
100g plain flour
2 eggs, lightly beaten
200g Panko bread crumbs
Sunflower oil for shallow frying
Method
1. In a large pot boil the potatoes until tender, drain well then return them to the pot, mash well and stir through mustard, crème fraîche, dill and lemon juice. Set aside.
2. In a large pot add the 600ml of water, brown onion, garlic, bay leaf and peppercorns. Bring to a simmer on a medium heat then gently place the mackerel fillet into the simmering liquid. Cook for 5-10 minutes until the fish is transluc...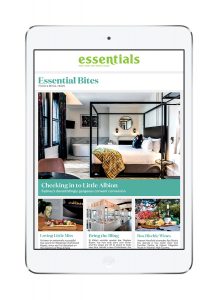 Essentials Premium Subscription FREE 14 day trial. Register Now
Get unlimited access to all premium Essentials Magazine content on all devices (includes mobile apps), PDF flip books of hard copy magazines and back issues. $12.95 per quarter after trial period. That's great value at less than 7 cents per day!