pickled beetroot, persimmon and macadamia nut
Serves 4
2 kangaroo fillet pieces, approximately 200g each
2 tbsp Australian extra-virgin olive oil for pan-searing
¼ cup balsamic glaze (store bought)
1 cup Rainforest Heart Australian Native Dukka
For garnish:
2 tbsp of thinly shaved Barenuts (brand) Australian macadamia nut
Sliced pieces of persimmon
Snow pea tendrils
Rainforest Heart Davidson's Plum Powder
Method
1. In a large frying pan over a high heat, add olive oil and quickly sear kangaroo fillets evenly on all sides. Remove from pan immediately and allow to rest on a wire rack.
2. Using a pastry brush paint the seared fillets with a generous amount of balsamic glaze and dust with Rainforest Heart Australian Native Dukka, ensuring the fillets are well coated.
3. Lay the kangaroo fillets onto individual sheets of cling wrap and roll tightly into log shapes. Seal the ends tightly and freeze solid, approxima...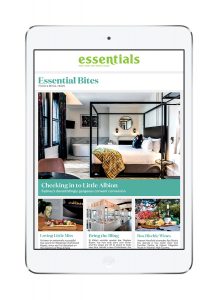 Essentials Premium Subscription FREE 14 day trial. Register Now
Get unlimited access to all premium Essentials Magazine content on all devices (includes mobile apps), PDF flip books of hard copy magazines and back issues. $12.95 per quarter after trial period. That's great value at less than 7 cents per day!