2 tsp powdered gelatine
3 tbsp chilled water
1¾ cup thickened cream
6 tbsp caster sugar
2 tsp orange blossom water
1¼ cups Meredith Dairy goat's milk yogurt
Method
1. In a small bowl add the chilled water and gently scatter the powdered gelatine into the water using a teaspoon. Allow to stand for five minutes until the gelatine has absorbed the water and become a soft solid.
2. In a heavy-based medium saucepan add the cream and sugar. Gently warm over a medium-low heat. Stir until all the sugar has dissolved.
3. When the cream is warmed and sugar dissolved, remove the saucepan from the heat and slowly stir in the orange blossom water and goat's milk yogurt.
4. Gently whisk the mixture into the softened gelatine and continue to stir until well combined.
5. Pour the panna cotta mixture into small individual glass jars or panna cotta moulds of your choice. Should make 4-6 small serves.
6. Refrigerate for 3 to 4 hours until set....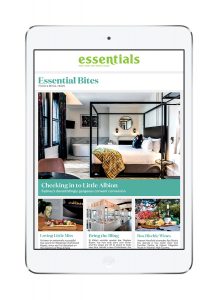 Essentials Premium Subscription FREE 14 day trial. Register Now
Get unlimited access to all premium Essentials Magazine content on all devices (includes mobile apps), PDF flip books of hard copy magazines and back issues. $12.95 per quarter after trial period. That's great value at less than 7 cents per day!