Confit Salmon
1 cup canola oil
1 cup extra virgin olive oil
1 bay leaf
2 sprigs fresh thyme
Zest of 1 lemon
1 tsp black peppercorns
½ tsp sea salt
4 salmon fillets, skin on (approx. 100g each)
Preheat oven to 90C
Method
1. Using a sharp thin-blade knife remove skin from the salmon fillets and set fillets and skin pieces aside.
2. In a deep glass or ceramic oven-proof dish add canola oil, extra virgin olive oil, bay leaf, thyme sprigs, lemon zest, peppercorns and sea salt. Gently stir ingredients together.
3. Next place salmon fillets in the infused oil mixture and loosely cover the baking dish with baking paper and place in the preheated oven.
4. Bake the salmon for 12 minutes for medium rare, or continue baking for a further 3-5 minutes to cook through.
5. Remove the baking dish from the oven and set aside to cool to room temperature.
6. Once cool, use a slotted spatula or spoon to gently remove the sa...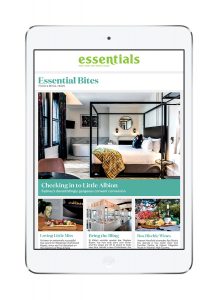 Essentials Premium Subscription FREE 14 day trial. Register Now
Get unlimited access to all premium Essentials Magazine content on all devices (includes mobile apps), PDF flip books of hard copy magazines and back issues. $12.95 per quarter after trial period. That's great value at less than 7 cents per day!