Chocolate Fondant with Cacao Jelly, Chocolate Crumble and Beetroot Ice-cream
Chocolate Fondant
Makes 6 fondant ramekins
Melted butter for greasing ramekins
Cacao powder for dusting
100g butter
200g dark chocolate
4 whole eggs
4 egg yolks
100g caster sugar
150g plain flour, sifted
100g cacao powder
Chocolate shavings and freshly-picked rosemary flowers to garnish
Method
Pre-heat oven to 180C
1. Prepare fondant ramekins by placing a small square of baking paper into the bottom of each ramekin, this will allow each fondant to easily slide out once baked. Grease each ramekin including the paper square with melted butter and dust the sides of the ramekin and paper base with cacao powder. Place ramekins on a baking tray.
2. In a medium bowl add chocolate and butter, place bowl over a small saucepan of boiling water. Now turn off heat and allow the chocolate and butter to slowly melt using the residual heat.
3. Using an electr...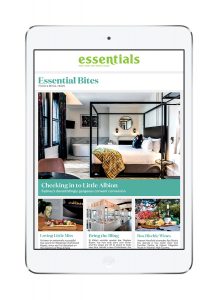 Essentials Premium Subscription FREE 14 day trial. Register Now
Get unlimited access to all premium Essentials Magazine content on all devices (includes mobile apps), PDF flip books of hard copy magazines and back issues. $12.95 per quarter after trial period. That's great value at less than 7 cents per day!