Serves 6-8
Sweet Pastry – Makes 500g
140g cold unsalted butter, diced
100g icing sugar
Pinch salt
1 egg, lightly whisked
230g plain flour
20g cornflour
Method
1. Put butter and sugar in bowl of electric beater and beat until creamy.
2. Add salt and drizzle in egg slowly, beat until smooth.
3. Sift in the flour and corn flour, mix briefly until it just comes together.
4. Tip dough out on floured surface and use your hands to shape a smooth ball, wrap with cling wrap and rest in a refrigerator for 45 minutes.
5. Remove from refrigerator, roll out dough evenly on baking paper and bake in oven at 180C until lightly golden.
6. Allow dough to to cool completely then lightly crush.
Smoked Salted Caramel Sauce
Makes 300ml
75g unsalted butter, diced
50g soft brown sugar
50g caster sugar
50g golden syrup
1 vanilla pod scraped|
125ml thickened cream
½ tsp Yileena Park Smoked Murray River Salt
Method
1. In a small heavy-bas...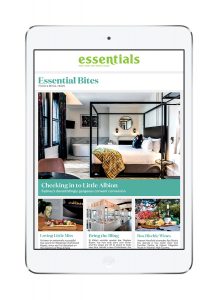 Essentials Premium Subscription FREE 14 day trial. Register Now
Get unlimited access to all premium Essentials Magazine content on all devices (includes mobile apps), PDF flip books of hard copy magazines and back issues. $12.95 per quarter after trial period. That's great value at less than 7 cents per day!