Autumn/Winter Waffles with poached pears, pecan crumble, salted caramel sauce and ricotta and crystallised ginger ice-cream
Serves 6
Waffle Batter
1 cup plain flour
4 tsp baking powder
2 tsp caster sugar
2 eggs, separated
½ cup melted butter
1 cup full-cream milk
Method
1. In a large mixing bowl, whisk together all dry ingredients.
2. Whisk egg whites until moderately stiff. Set aside.
3. In second bowl, mix together milk, melted butter and egg yolks.
4. Slowly add the wet ingredients to the dry ingredients and stir until well incorporated.
5. Now fold the egg whites into the waffle batter.
6. Heat waffle iron, ladle in mixture and bake until golden.
Poached Pears
4 cups water
3 cups caster sugar
2 cinnamon quills
1 vanilla pod, halved and scraped
Zest of 1 lemon
2 sprigs thyme
5 pears, peeled, halved and cored
Method
1. Place all ingredients except the pears in a saucepan and bring t...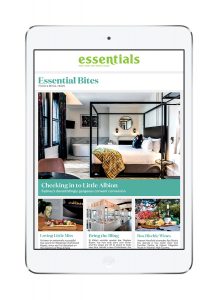 Essentials Premium Subscription FREE 14 day trial. Register Now
Get unlimited access to all premium Essentials Magazine content on all devices (includes mobile apps), PDF flip books of hard copy magazines and back issues. $12.95 per quarter after trial period. That's great value at less than 7 cents per day!