In a classic role reversal, an Indian fortress built to guard against threats from outside now welcomes travellers from faraway lands to experience Rajasthan's hospitality, cuisine and traditions.
Words & Additional Photography by Belinda Jackson. Hotel Photography Courtesy of  Alila Hotels & Resorts
It's 500 steps to the Kalka Mata temple in the foothills of the Aravalli Hills, which swing in a wide arc across India's most colourful state, Rajasthan.
'Mother give us strength. Mother give us strength,' an old woman mutters with every step, as we few pilgrims climb toward the Hindu temple. I'm happy she's calling on the invincible goddess Durga – our progress is watched by a band of stone-faced monkeys which are, unnervingly, the size of small children. Occasionally, one leaves a long, silvery tail across our path, taunting us. I hope the woman is praying for me, too.
You have to work for your blessings at Kalka Mata. But at ...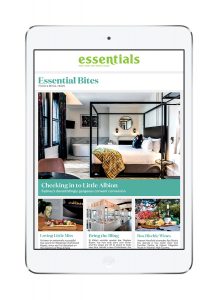 Essentials Premium Subscription FREE 14 day trial. Register Now
Get unlimited access to all premium Essentials Magazine content on all devices (includes mobile apps), PDF flip books of hard copy magazines and back issues. $12.95 per quarter after trial period. That's great value at less than 7 cents per day!