A great grey rain cloud passes over the deep red sand. Fingers of sunlight burst through the receding front flooding the sand dunes with golden light. Tiny blue wrens and wagtails dart about catching flying insects emerging from the wet spinifex. 'It looks like something from the red centre,' says Barry Iddles. The man who is known as Melbourne's caterer to high society is looking from a window onto a manicured landscape on the outskirts of Melbourne. Designed to emulate Australia's parched interior, it is one of many Australian landscape vignettes at Cranbourne Gardens, part of Royal Botanic Gardens Victoria. Since Barry took the reins of the Boon Wurrung Café in the gardens' visitor centre he has fallen in love with the grounds that surround his workplace.
Melaleuca Spits
River Bend
Red Sand Garden
'This view reminds me of a trip I took with my family to the outback over...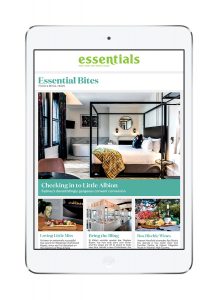 Essentials Premium Subscription FREE 14 day trial. Register Now
Get unlimited access to all premium Essentials Magazine content on all devices (includes mobile apps), PDF flip books of hard copy magazines and back issues. $12.95 per quarter after trial period. That's great value at less than 7 cents per day!