Having experienced a dysfunctional work ethic at Jamie Oliver's Fifteen Melbourne, and an abusive kitchen culture within Gordon Ramsay's London restaurant Maze, local chef David Kapay returns home to Albury/Wodonga to open a Miss Amelie, a restaurant that shines with exceedingly well-balanced fare.
Housed within a former railway building in Wodonga Victoria, Miss Amelie will see Junction Square grow up around around it. Having secured a long 9-year lease David explains that a host of food venues, retail shops and a high-rise hotel will be built adjacent his 'platform' deck and garden, and is sure to secure future business.
Seated inside Miss Amelie the space appears huge, yet feels so delightfully warm. It features varying spaces, including a relaxed 'after 5' bar connecting to an open kitchen/dining room that feels lightly formal yet energetic with hot pink decor accents and fine art prints by Canadian illustrator Jenny Liz Rome. The...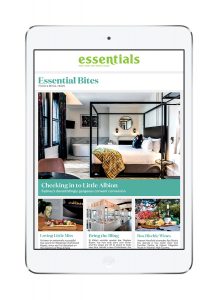 Essentials Premium Subscription FREE 14 day trial. Register Now
Get unlimited access to all premium Essentials Magazine content on all devices (includes mobile apps), PDF flip books of hard copy magazines and back issues. $12.95 per quarter after trial period. That's great value at less than 7 cents per day!