Va Tutto restaurant in Ivanhoe, a leafy North East suburb of Melbourne is an icon. Operated by husband and wife team, Paul and Myrto Recinella, Va Tutto is currently in its twelfth year; its fine food heritage going back a further 16 years, as the pair previously operated Zeo's in East Melbounre. Achieving The Age Good Food Guide one hat status for 7 years in a row, Paul explains that continually working to meet this, though 'nerve racking', was a requirement to compete in the CBD restaurant market. While the quality of food and service at Va Tutto remains excellent, Paul admits that he loved moving out to Ivanhoe.
'I think as you get older you just cook because you just love to cook and look after people; I'm no longer interested in winning hats - they can keep them!' he says. 'Zeo's was formal fine dining, and while we also offer fine dining options at Va Tutto, I could also be preparing just a schnitzel or a pizza - I love doing tha...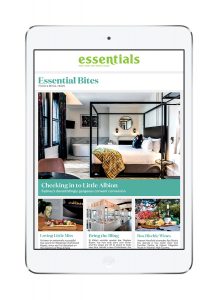 Essentials Premium Subscription FREE 14 day trial. Register Now
Get unlimited access to all premium Essentials Magazine content on all devices (includes mobile apps), PDF flip books of hard copy magazines and back issues. $12.95 per quarter after trial period. That's great value at less than 7 cents per day!