This list has been compiled by our state contributors, and moderated by national editors. Every experience listed in our 2015 Australia & NZ Travel Experiences should offer a first rate tourism experience; any that achieve a placement in the Top 100 represent a higher order of excellence.
Our list of TOP 100 Australia & NZ Travel Experiences 2015:
1. Wasabi Restaurant & Bar, QLD
Queensland restaurateur Danielle Gjestland is a standout dynamo. Her Wasabi Restaurant and Bar concept opened on Sunshine Beach almost 12 years ago. Since then it has grown into an internationally recognised Queensland food institution, presenting the most impeccably appealing and flavoursome Japanese dishes and sake that we've ever laid our lips upon.
Today the restaurant has expanded both its dining concept and floor space within a waterside Noosa Sound property, featuring a series of louvred bays and raised windows that open the restaurant up ...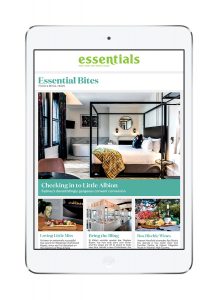 Essentials Premium Subscription FREE 14 day trial. Register Now
Get unlimited access to all premium Essentials Magazine content on all devices (includes mobile apps), PDF flip books of hard copy magazines and back issues. $12.95 per quarter after trial period. That's great value at less than 7 cents per day!