NY Lobster Roll with Roasted Tomato Marie Rose
Essentials takes a bite of The Big Apple and surrounds.  Come summer in the northern hemisphere, both NYC and regional NY chefs keep the plates fresh, clean and simple. Classic New York fare lives on.
Serves 4
4 sourdough individual baguettes
2 small to medium lobster tails, cut into bite-sized pieces
¼ wedge red cabbage, thinly sliced
1 small red onion, peeled and thinly sliced
1 medium-sized carrot, peeled, julienned
½ bunch chives, finely chopped
Dijon cress (micro-herb) to garnish
Lemon wedge and finely chopped chives to serve
Method
1. In a large bowl combine lobster pieces, cabbage, red onion, carrot and chives.
2. Add a generous amount of Roasted Tomato Marie Rose sauce (see recipe below) and toss well.
3. Slice baguettes into halves and spoon lobster/slaw filling generously onto the base of each baguette.
To Serve
Garnish the lobster/slaw filling with ...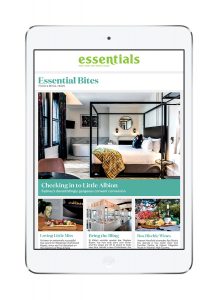 Essentials Premium Subscription FREE 14 day trial. Register Now
Get unlimited access to all premium Essentials Magazine content on all devices (includes mobile apps), PDF flip books of hard copy magazines and back issues. $12.95 per quarter after trial period. That's great value at less than 7 cents per day!