A hidden gem plating up farm-fresh produce and bakery perfection.
You have to go out of your way to get to Pigeon Hole. The little café, a good 15-minute walk from the centre of Hobart, is in an old shop with a burnished brick façade and aged stainless steel window and door. It is also one of the best little places to eat paddock-to-plate food in the nation. Pigeon Hole Café is owned by farmers Richard and Belinda Weston who showcase their excellent produce through the café's small menu. Take a seat at the table in the front window or down the back perched on a short stool. It is cozy. The food is truly seasonal.
Expect a soup – good chicken stock and loads of veg from the farm. There could be some meatballs, redolent of fennel, with paprika-infused ragu. If you see paprika on any dish on the menu, order it. The smoked paprika from Weston Farm is a brilliant product, deep and complex. There are good braises on the menu using less-love...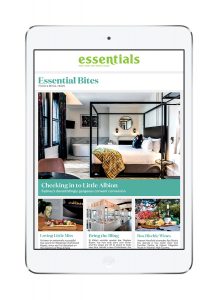 Essentials Premium Subscription FREE 14 day trial. Register Now
Get unlimited access to all premium Essentials Magazine content on all devices (includes mobile apps), PDF flip books of hard copy magazines and back issues. $12.95 per quarter after trial period. That's great value at less than 7 cents per day!