Some of Victoria's most experienced chefs and respected operators have headed for the mountains. Some bring with them tight-knit teams to create virtual pop up restaurants bringing their style of exceptional food and service to the snow for the season. Others call Falls Creek home and serve great food all year round. This little village of several hundred expands to over 7000 at the peak of the season giving this alpine resort a real buzz. Bars pubs and restaurants are busy with hungry skiers through the day and packed with a food- and fun-loving crowd at night. The offerings are wide and varied with some beautifully executed healthy meals, great pub grub and finessed fine dining. We went up to Falls Creek early in this season to find what's new, what's hot – and uncovered a few hidden gems.   
Elk Falls Creek
 
Slap-bang in the heart of Falls Creek Village, Elk at Falls is a popular bar and diner featuring a free-standing log fi...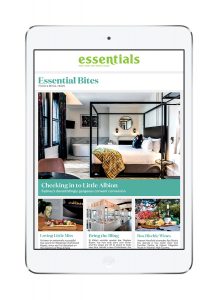 Essentials Premium Subscription FREE 14 day trial. Register Now
Get unlimited access to all premium Essentials Magazine content on all devices (includes mobile apps), PDF flip books of hard copy magazines and back issues. $12.95 per quarter after trial period. That's great value at less than 7 cents per day!