Milawa Gourmet Region's Off Centre Gallery to Plate up a Ceramic Arts Feast this Winter
On the Queen's Birthday long weekend 2018, Friday to Monday, June 8 to 11, Off Centre Gallery will celebrate winter with a full-scale winter-themed dining setting showcasing English born, Sydney-based ceramicist Katherine Mahoney's contemporary functional wares. Off Centre Gallery will also present a special 'meet the artist' event on Saturday, June 9. Katherine produces outstanding functional wares - plates, cups, bowls, spoons and platters - and unique signature ceramic pieces. Her work features a lovely range of textures and colours including natural sand and earth tones that mix and match well.

Visit Milawa Factory Complex
The Milawa Kitchen will celebrate the weekend by offering a special package including a macaron and coffee served on and in a Katherine Mahoney ceramic side plate and beaker. The adjoining Milawa Cheese C...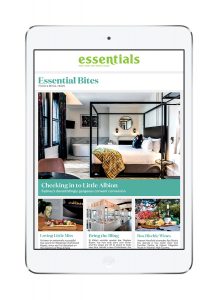 Essentials Premium Subscription FREE 14 day trial. Register Now
Get unlimited access to all premium Essentials Magazine content on all devices (includes mobile apps), PDF flip books of hard copy magazines and back issues. $12.95 per quarter after trial period. That's great value at less than 7 cents per day!