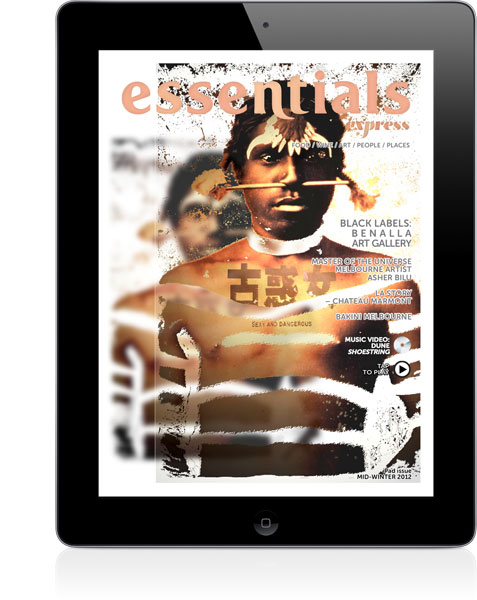 NEW: Essentials (express) for iPad
Inside Essentials (express) for iPad Mid-Winter 2012:

FOOD

Waddington's Winter Feast: Rod and Jan Waddington's favourite restaurant menu items lovingly reinterpreted. 40 Degrees South: We taste this year's award-winning King Island 'Iron Chef' Kin San's modern Japanese recipes. Bakini Cucina Regionale: We review Melbourne's newest authentic Italian restaurant.

TRAVEL

LA Story Chateau Marmont: Step into one of the world's hottest celebrity haunts. Chinese Whispers: Exploring the changing face of Beijing's retail/export economy. Las Pozas Mexico: Edward James' surrealist sculpture garden - your photographic guide. International Travel News: Wai Restaurant Queenstown, NZ; Croatian Cool ?Äì Lone Hotel?Äôs new Prostor and more.

ART & CULTURE

Artist in Residence: A life's creation - Melbourne abstract artist Asher Bilu's Brighton home. John Peter Russell - The two-part story of Australia's own impressionist painter. Picasso to Warhol: Fourteen Modern Masters - Your personal gallery preview.

REGULARS

Food news: Bridge Road Brewers' Galaxy of IPA, 2012 Lorenzo Galli Wine Scholarship, Hub St Kilda, La Madre Bakery, Ladro Melbourne. In-cover music video release: Dune ?Äì 'Shoestring'. Nouvelle Cuisine: The Green Shed Bistro's recipe - Silky Prawn and Trout Dumplings.


Download Essentials (express) iPad App

To download Essentials (express) iPad App please visit the App Store via this link.


iPad App Support

For iPad App support please visit this page.

We welcome your comments, suggestions and feedback. Thank you.
ipad_support@essentialsmagazine.com.au


Print Subscriptions Support

It has recently come to our attention that in 2011 and 2012, unauthorized online sales of Essentials Magazine print edition was wrongly operated via our former affiliate online sales partner. Currently Essentials Magazine Pty Ltd does not offer subscriptions of print magazines. If you have made a purchase and believe you are owed a refund, please email your full proof of purchase order/receipt to the email address below and we will process your request as soon as humanly possible. Remember to include both your address and telephone contact number (including a note of best time for calling).We apologise for our affiliate's errors.

We welcome your comments, suggestions and feedback. Thank you.
subscription_refunds@essentialsmagazine.com.au